Dead, Insane, or in Jail: A CEDU Memoir:
Zack Bonnie was fourteen when his parents sent him to a "Troubled Teen" facility. The author takes readers there, in a thrilling psychological read. Sequestered where bizarre cult-like techniques become the norm, see for yourself exactly what the controversy is about. Should we mold a child's behavior using the tools of brainwashing? With coarse, brutal dialog and authentic source materials, this nonfiction memoir, the first in a series, exposes the secrets and tells it all.
Dead, Insane, or in Jail: A CEDU Memoir is named for the range of options open to the author at 14, if he ran away from the cult his parents inadvertently inducted him into. This is the first time he has told his story. And it's a doozy. Too many people can relate to this account, unfortunately. Although Rocky Mountain Academy has closed its doors, several hundred residential teen-treatment programs, religious reeducation camps, and places that commit spiritual assassination still operate without oversight in the United States.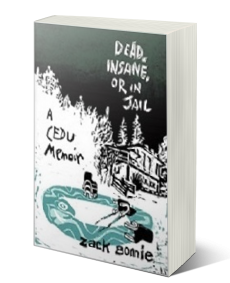 ---
Overwritten! Book 2 in the Dead, Insane, or in Jail series:
"Choose to be here…to believe what this special place can offer you. It's your choice, you see."
After five weeks of intense wilderness Survival, a disorienting trip back to Rocky Mountain Academy, and a package from his parents which further severed communication, Zack Bonnie found himself right back where he started.
Welcomed back by staff who called themselves family members and who were determined to change his behavior through pseudo-psychological methods like raps, bans, propheets, and restrictive agreements, Zack found himself at a breaking point. He no longer had the energy and will to resist. He let them in.
"Dissent was a virtual impossibility since we were all now part of our webs of parent, older brother and sister, and staff messaging. The only way to escape this web was to turn eighteen, lose one's mental faculties, or maybe die… The trap was as simple as a Chinese finger trap, and at the same time complex like the movement of wave energy. The more we struggled to learn and succeed over weeks and months here, the more enmeshed our lives became…"
Overwritten: Book 2 in the Dead, Insane or in Jail Seriesis the story of how the CEDU program at Rocky Mountain Academy systematically dismantled and restructured the mind of fifteen-year-old Zack Bonnie through unrelenting propaganda in the winter of 1988. On a backdrop which opens in a brutally cold northern Idaho winter, Zack writes, "eventually I would buy into almost all of it, to the point of emotional bankruptcy…" and, "There was no escaping the program's required intimate bonding, smooshing, and hand joining. There was no escaping the effect it had on me, either."
Zack Bonnie, now an advocate and resource in the Troubled Teen industry, has spent years unraveling exactly what happened to him at Rocky Mountain Academy, and researching its parallels to cult activity and brainwashing. Overwritten is a continuation into the personal narrative Zack began in Dead, Insane, or in Jail: A CEDU Memoir and a self-aware, intimate window into the tactics used to break, rebuild, and rewire young minds in this industry.
*Cover reveal coming soon! This is our working draft.